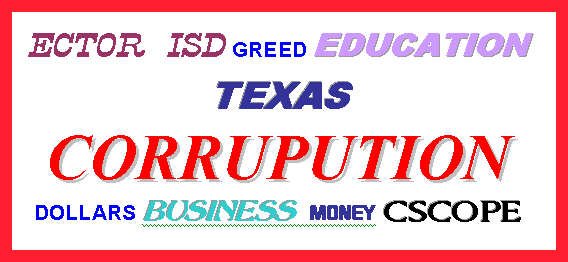 [4.4.13 — The Ector County ISD administrators told the teachers that the school district did not have enough money to fund the very inexpensive handwriting books (Zaner-Bloser) that are needed to help teachers to teach cursive writing in Grade 3 as required by the Texas curriculum standards (TEKS).
Please remember that Ector Co. ISD announced on 8.1.12 that they were spending $1.7 Million on CSCOPE  –http://www.oaoa.com/news/education/ecisd/article_98bbdf11-f50c-5370-9773-b39a999191f4.html?mode=jqm .
 Yet Ector Co. ISD has the money to fund an advertising campaign with "friends" at a local advertising agency.  The new advertising slogan is "Educate. Connect. Inspire. Succeed. Dream." Perhaps if Ector Co. ISD actually did what its slogan claims, the taxpayers would not be so upset. However, the most recently released STAAR/End-of-Course test results from last year indicate that Ector Co. ISD's students fell far below the state average. Something is wrong with this picture! – Donna Garner]
4.4.13 – Odessa/Midland newspaper – oaoa.com
$100,000 ECISD news campaign begins
An electronic ad for ECISD displays on a billboard at Dixie Avenue and Eighth Street.
Posted: Thursday, April 4, 2013 8:27 am
BY LINDSAY WEAVER, lweaver@oaoa.com
 http://www.oaoa.com/news/education/ecisd/article_3fb0fd64-9ca5-11e2-a13a-001a4bcf6878.html
 How will the community know that its public school district is finding success in its classrooms, helping students realize the college dream, inspiring excellence and connecting families and teachers?
 The answer for Ector County ISD is to do it with a positive advertising campaign costing the district $100,000, which was approved by a 7-0 board vote.
 However, the steep price tag and the push to feed the community only positive information is not sitting well with some.
TV commercials, magazine ads, newspaper ads, two billboards and a secondary informational website created by Hunt Advertising and Consulting Inc. have been out since Monday. Board members and ECISD staff say it's a good move for ECISD because other Permian Basin mainstays such as Odessa College, the University of Texas of the Permian Basin and Odessa's two hospitals utilize professionals to put out their message via media. The decision had been a long time coming, several trustees said.
"The multimedia approach, we as a school district have never done before," Director of Communications Mike Adkins said.
 The Hunt Advertising team gathered for a meeting at its office with Adkins to discuss the project in person about each facet. Months ago, the team brainstormed and came up with using ECISD as an acronym for"Educate. Connect. Inspire. Succeed. Dream." The phrasing and color theme carries throughout the new website www.ecisd.info, Facebook, Twitter, YouTube and the advertisements.
 "We hope it will be in everybody's minds," Jed Duesler, Hunt's social media consultant, said.
When asked how many visitors the new website received on its first day, the team declined to divulge. Webmaster Michael Horton said the web traffic did exceed expectations.
 Social media is rolled into the contract as well, though Adkins is still responsible for keeping those pages updated and responsive to readers. They're adding a YouTube channel where media can check in and use video footage produced by the communications department or of school board meetings if needed, Duesler said.
Mary Hunt, president of the firm, said she invited the OA to her office to offer "their side," adding that the $100,000 contract did not come from the $129.75 million voter-approved bond fund as has been suggested by some, she said. However, everything spent by ECISD hails from tax-supported money, which has ruffled the feathers of some Odessa watchdogs.
 "When and what mechanism compels the school district to tell us the ugly truths about where we are at ECISD? Everybody is for the good news and happy news … but sometimes we have to deal with the present," Jason Moore said.
 Moore is a local radio show personality and parent of ECISD students. His afternoon radio show is 5 to 6 p.m. Monday through Friday on 1070 a.m.
 Moore questioned why a second website was needed when the information on the new site can be found on the old ECISD site.
 "It's getting disgusting when the alarm bells go off that the apocalyptic event of cutting something happens … then they always come up with money to frivolously waste on a PR site," he said. "That's the nature. They know they're the blob of government that goes on in perpetuity, and wears the citizenry down."
Former school board member Doyle Woodall is challenging incumbent Tom Pace in Place 4. Woodall said he would have never voted for the contract.
"If a school district has full disclosure, if everything is transparent, if all of your policy and board decisions are in the best interest of teachers and children, you don't have to do any advertising," he said.
"It's definitely a waste of money. That's $100,000 we could have bought school supplies and equipment," Woodall said.  
Candidate Teri Wheat Ervin, a lifetime educator who is facing Fay Batch for Place 2, said had she been on the board, she might have "looked harder on how we can reach out to the public than to spend $100,000 on advertisement," she said. Ervin suggested less costly ways like utilizing the current website or getting children involved perhaps via a newsletter.
The Hunt Advertising bid was the only one submitted for the job that was posted last year and voted on by the board in January with no dissenting voice from school board members.
In 2006, ECISD's strategic plan was finalized that included one on communication that says the district should recognize those who have carried out the message of the district, training for ECISD leaders, using market research data to determine expectations, utilizing public service announcements, holding a monthly press conference and organizing town hall meetings as appropriate.   
ECISD's five TV commercials feature: Sheila Wilson, a Milam Elementary School teacher; Mike Hinojos, parent; Gerardo Ramirez, New Tech facilitator; Renee Earls of the Education Foundation; and Jorrion Wilson, Permian senior. Each person volunteered to star in the commercials and each takes on one of the keywords in the ECISD acronym.
The bottom line, Adkins said, is this is an opportunity to show off the positives of the district.
"We're emphasizing the good work, the accomplishments taking place," he said.
 Tom Pace, who is seeking re-election, said the approval of the contract came after settling on a strategic plan that gathered the input of employees, parents and others nearly five years ago. Part of the plan is to better communicate with the community on the positives at ECISD, along with providing ways to get information to households. The ad campaign is completing that service, he said, though he hadn't had the chance to look at the website yet.
Trustee Luis Galvan said he's tired of seeing "bad news" on the news and that ECISD "wants to show the good news."
In response to the question of why ECISD needs to advertise when there's no competition in town, Galvan said that there is competition with the charter schools (Compass Academy, Richard Milburn Academy and Harmony) and people should know "we're providing an excellent education."
[Message to Ector Co. ISD constituents: Harmony has been usurped by Obama's takeover of the public schools through Common Core Standards. Because Harmony applied and received the RTTT-D grant, Harmony must now teach its students the social justice agenda of the Common Core Standards. This is indoctrination – Donna Garner]
The campaign is not a recruiting tool, Adkins said.
Galvan said the commercials are a great idea because children might see them on TV and it can start a conversation about school.
"It's a great thing. I have to advertise my business to get attention, so why can't we boast about the good things happening here?" he said after an ECISD workshop Tuesday.  
[To state the obvious:  "Galvan does not use public tax dollars to advertise his business. Ector Co. ISD does.  If Galvan does not run a fiscally responsible private business, he goes belly up.  – Donna Garner]
Under the "educate" page on www.ecisd.info, the results for Permian and Odessa High's TAKS science scores are listed with this tagline: "With consistent, structured curriculum, there has been an 11 point increase in math and science test scores. All classrooms are teaching the same thing so students don't miss anything."
When asked why some positive stats are being used over others, Adkins said since CSCOPE was implemented in science and math first the district believes the large gains on those tests are linked. And anytime test scores come out, they're put on the main ECISD website, sent in a press release and covered in the media repeatedly, he said.
"This is an image campaign," Adkins said. He added that the .info site is another avenue for the community and because the current .org site has so much information with every department of ECISD's 27 school system. It's the largest employer in Odessa with more than 3,400 employees.
He said the current site can prove difficult to navigate because of the sheer information amount and template they're bound to use for now, Adkins said.
The .info site is intended to be "an information portal that hits on the most asked questions," Adkins said. The Communications Department — of Adkins and assistant Gabriella Granado — will eventually have to maintain that site once the contract expires Aug. 31, unless it's renewed.
"It's providing a clearer view of what New Tech Odessa is all about, that it's not a career and technical center, it's all about 21st century learning," Interim Superintendent H.T. Sanchez said. He said the parent perspective and teacher perspectives in the ads are more than showing off accolades for ECISD but an opportunity to get involved to be a valued partner in Odessa.
WHERE IS THE MONEY BEING SPENT?
It took several email and phone calls to get the specific breakdown of where the money was spent. During questioning on the breakdown Adkins interjected that the scrutiny given to ECISD on this issue shows the bias of the OA against ECISD, over say UTPB or OC, who Adkins guessed spent "hundreds of thousands of dollars" with the OA in advertising.
Here's how Hunt Advertising figured the $100,000 budget:
$22,185: Television ads, on KMID, KOSA, KWES, KPEJ, 229 paid spots and 228 donated matching PSAs.
$18,000: Web development.
$15,000: Broadcast production.
$10,000: Creative concept.
$10,000: Print and billboard production.
$8,216: Odessa American ads, eight ads at the nonprofit rate.
$7,725: Billboard ads (Eighth Street and Dixie Boulevard; West County Road and University Avenue).
$5,000: Social media development.
$3,690: Magazine ads in "An Apple A Day," a free health publication with a circulation of 3,000 (three ads paid, two ads donated) and "The Odessan," a paid magazine (two editions of May/June and July/August).
 
"An Apple A Day" lists Mary Hunt as the publisher and her name is listed under "sales" on page 3 of the April issue that's distributed in local doctor's offices and stores such as Walgreens.
The OA requested how much of ECISD's money was used to publish the ads — produced by Hunt Advertising — in Hunt's magazine, but did not receive the information as of press time.  
Hunt said "An Apple A Day" is a "good publication whether I published it or not" and said she would have recommended placing ads in it nonetheless.
To Woodall, he said it's a case of the left hand not knowing what the right hand is doing.
"When you're paying for two superintendents and now you have someone paying themselves to pay for something you've hired them to do already. … You can call a skunk a pussy cat, but it still stinks," he said.
Donna Garner