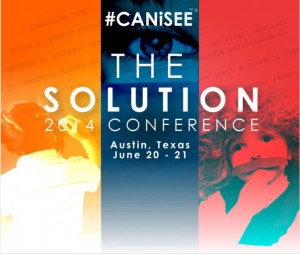 Please join us and register for this wonderful educational conference exposing the transformation taking place across the state of Texas in every school district. Not only are Texas Schools using and implementing the Common Core philosophy they are Data Mining your children without your knowledge. The CAN I SEE Conference is being held in Austin June 20-21.
"EVERY GENERATION HAS A DEFINING ISSUE AND NO ISSUE MORE DEFINES A GENERATION THAN HOW IT EDUCATES ITS CHILDREN."
– Merrill Hope, Breitbart News
The PTA (Parent Teacher Association) will hold its annual national convention in Austin June 19th-22nd. Their keynote speaker is Arne Duncan, U. S. Sect. of Education, who, in conjunction with the national PTA, are cheerleaders for the Common Core.
In response to that event, we have a tremendous opportunity to hold the #CANiSEE™© the Solution counter-event on June 20-21, 2014. The Solution conference will feature some of the most prominent voices who have come together to end the federal takeover of K-12 public education.
THE SPEAKERS…
Dr. Sandra Stotsky – Professor Emerita, U of Arkansas
Dr. James Milgram – Professor Emeritus, Stanford U.
Jane Robbins – American Principles Project
Dr. Peg Luksik – Founded on Truth 
Phyllis Schlafly – Eagle Forum 
ALSO…
Dr. Duke Pesta – Freedom Project Education
Dr. Terrence Moore – Author of The Story Killers: A Common Sense Case Against the Common Core
Dr. Chris Tienken– Author of The School Reform Landscape: Fraud, Myth, and Lies
THE WORKSHOPS…
Jenni White – Restoring Oklahoma Public Education (ROPE)
Anita Moncrief – True the Vote
Nakonia Hayes – "The Story of John Saxon"
Glyn Wright – Eagle Forum 
MerryLynn Gerstenschlager– Texas Eagle Forum
Mary Bowen – Texas Teacher and Education Advisor
Dr. Stan Hartzler- Classroom Applications of Cognitive Psychology   
Henry W. Burke – EducationViews.org Contributor
Lisa Benson – Lisa Benson Radio for National Security Matters 
Karen Schroeder – Advocates for Academic Freedom
Jeanine MacGregor – Writer, researcher, cognitive learning expert