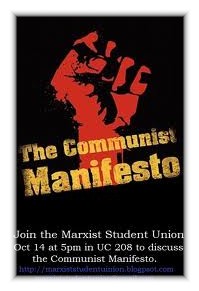 Texas Students and the Communist Manifesto    
Students in Texas  whose School Superintendents and Board of Directors have purchased a  Marxist/Progressive curriculum called Cscope from their local Education Service Centers have students sympathizing with the idea of Communism. All twenty of the Education Service Center Directors formed a non-profit within a the State Agency of the Education Service Center and have used taxpayers money to implement and sell the Marxist curriculum Cscope to their local districts.
These are the Texas Schools that have purchased Cscope. 
Glenn Beck covered the story of a Cscope lesson that has the Boston Tea Party portrayed as a Terrorist Act.  Cscope also calls for students draw and color a new Socialist/Communist Nation Flag in one of the lessons.
As a parent and a taxpayer you may wonder why you have not heard about Cscope. The online curriculum has not been available for parents to view and teachers had to sign a non disclosure statement that they would not release the contents are say anything negative about Cscope. In other words teachers have been scared to speak out from fear of losing their jobs. Fortunately for students and Texas teachers there have been a group of concerned patriots  including myself that have been working to expose Cscope for what it is.
The Texas Senate Education Committee held a Hearing on Cscope last Thursday, Jan. 31st. The Non Profit Texas Education Service Center Curriculum Collaborative (TESCCC) who owns Cscope now is under evaluation by the Texas State Senate as well as the lesson content.   You can read about The Best Senate Hearing Ever. 
Check out the assignment below which is also part of the same lesson where students draw and color a new communist flag. They are to use EXCERPTS FROM THE COMMUNIST MANIFESTO during their lesson.

For additional info on Cscope check out TXCSCOPEREVIEW