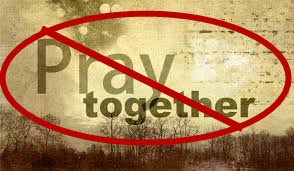 CYFAIR ISD School Board made the decision without a board vote to remove prayer from their school board meeting and replace it with "movement of silence".
Cyfair's recent school board meeting was Sept 12th. The community came in protest to the board's decision and during the moment of silence quoted the "Lords Prayer".
In trying to figure out how and what prompted the school board to eliminate prayer from their meetings I then submitted a Public Information Requesting asking for the following….
"Any/All communication, emails, text messages with board, administration, communications director relating to the CYFAIR ISD SCHOOL BOARD removing the Invocation/Prayer from their school board meeting and replacing with a Moment of Silence." 
Today I received an email from  CYFAIR ISD stating the following..
Ms. Russell, your request has been processed, however, it appears the responsive documents are required to be withheld under provisions of the TPIA addressing attorney-client privileged communications and the deliberative process privilege.  A request will be submitted to the Texas Attorney General in order to confirm.  You will be copied on the correspondence.  Once the applicability of the privileges has been determined, any responsive documents that are releasable will be provided to you. 
Thank you,
Marney Collins Sims,
General Counsel
_______________________________________________________________________________________________
My gut feeling is the TEXAS ASSOCIATION OF SCHOOL BOARDS (TASB) is behind it but we will find out.