On the US Dept of Education you will find a Fact Sheet Titled" Redesigning America's High Schools.   Through the use of Federal grants (Obama's stimulus package) a massive progressive/liberal transformation is taking place across America, and Texas is not immune from it. Texas school districts have been working for sometime transforming from a traditional education to a Marxist philosophy based on the collective.  This new philosophy goes by a series of different names, but we know a rose by any other name is still a rose. I have heard this philosophy called by the following: (STEM, Common Core, Cscope, Project Based Learning, CRISS, Student Led Learning, Collaborative, etc). All are based on the collective where Absolute Truth and American Exceptionalism is not taught. Cursive, Multiplication facts are becoming a thing of the past.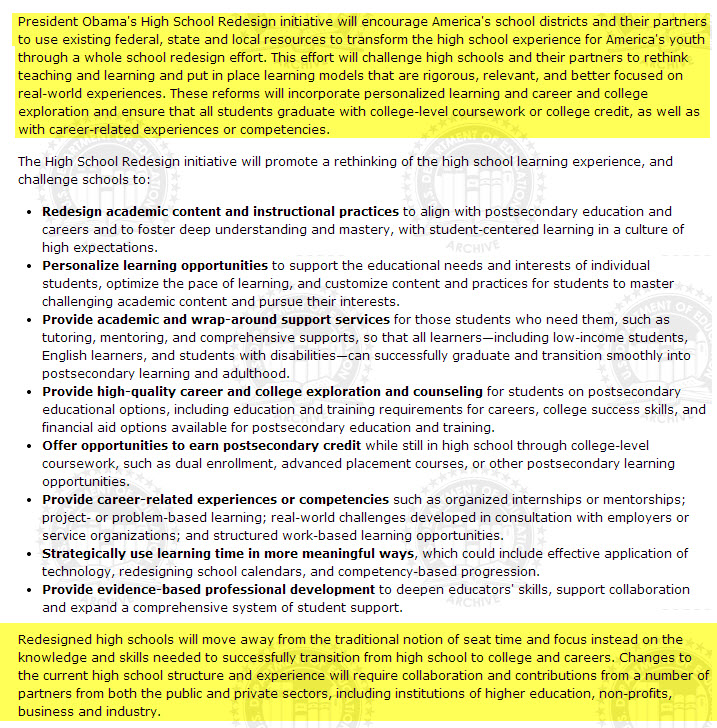 I wrote and earlier article highlighting Texas School district Manor ISD and their implementation of Obama's agenda with Manor New Tech High . Pleased with their transformation President Obama paid them a visit. Obama and the New Tech Network.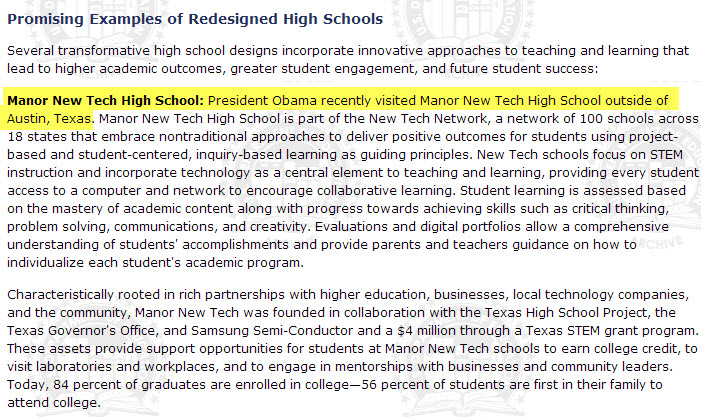 Coppell ISD now has a New Tech School. Superintendent of Coppell, Dr. Jeff Turner has been working for years to transform Texas Education. You can read more on Dr. Jeff Turner and his agenda, HERE. 
Other Texas New Tech Schools.
Legacy Preparatory Charter Academy @ Dallas
Legacy Preparatory Charter Academy @ Mesquite
For information on T-STEM
Terms you will here in the from educators in this radical transformation:
21st Century Learning
Critical Thinking Skills
Authentic Learning
Project Based Learning
Authentic Assessments (real life test ex: changing a tire).
Student-Driven
Link to Document Below written by radicals, Science Czar John P. Holden & others.