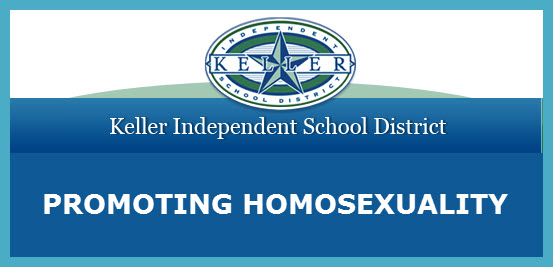 A Keller ISD student, Casey Akers was not allowed to preform a "promposal" on campus by asking another female student to prom and is now speaking out. She voiced her objections at the April Keller ISD school board meeting. This has prompted the administration into changing the district's anti-discrimination policies while everyone was on summer break (no surprise there). The proposed policy changes redefine the word "Discrimination" throughout to include the new language "gender identity, gender expression, sexual orientation" YIKES…
News of these changes have been brought to light thankfully to the hard work of education activist Alice Linahan with "Women on the Wall" and conservative TV personality, Glenn Beck who lives in the Keller ISD district. These policy changes were set to be discussed on the August 13th school board meeting.
Glenn Beck posted an article by Alice Linahan about the policy changes and the school board meeting on his facebook page. Glenn stated he would be attending the meeting and encouraged others to do so also.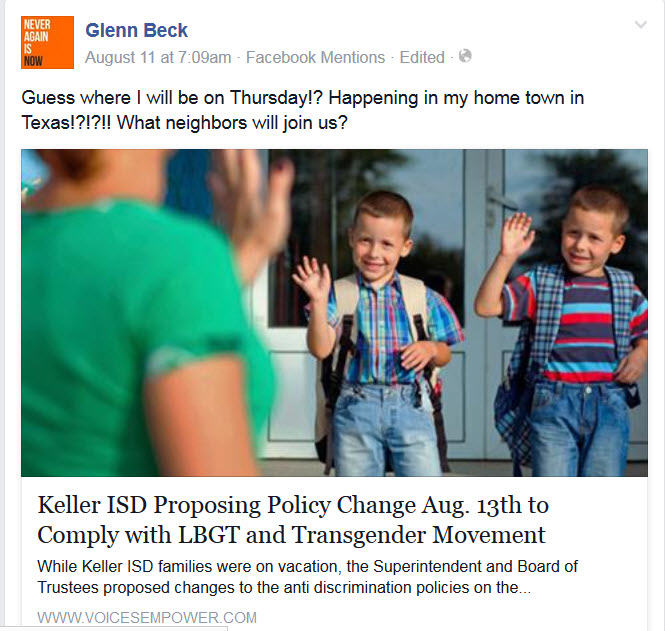 I can assure you that the negative news coverage is not what the school district bargained for.  School districts abhor any news that portrays them in a negative light.
The day of the meeting they posted that the anti-discrimination policy item was removed from the agenda. The following sign was posted on the board room door.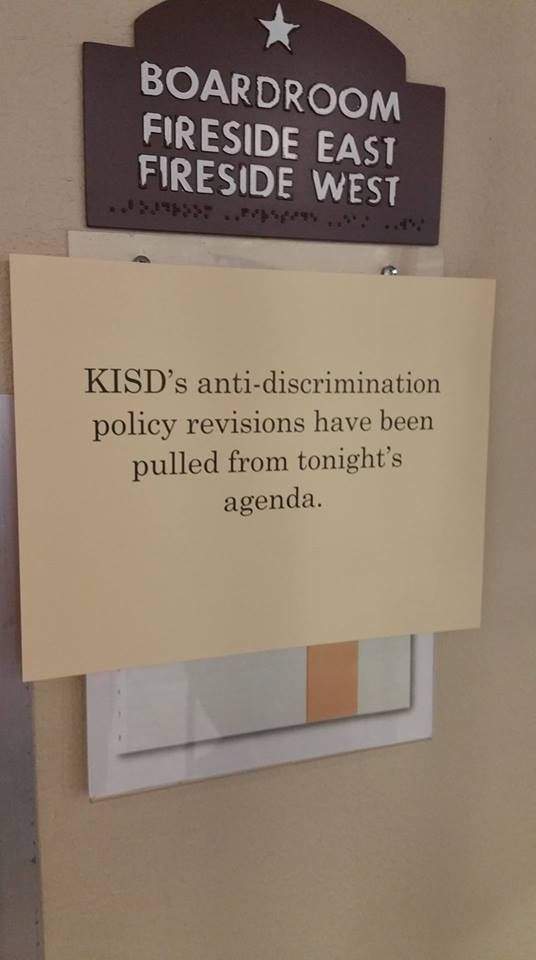 As parents and taxpayers started showing up at the school board meeting they began posting photos of the boardroom filling up online.
I am assuming the board president delivered the following speech…..
 The news media shows up and guess who they want to interview…… yea you got it.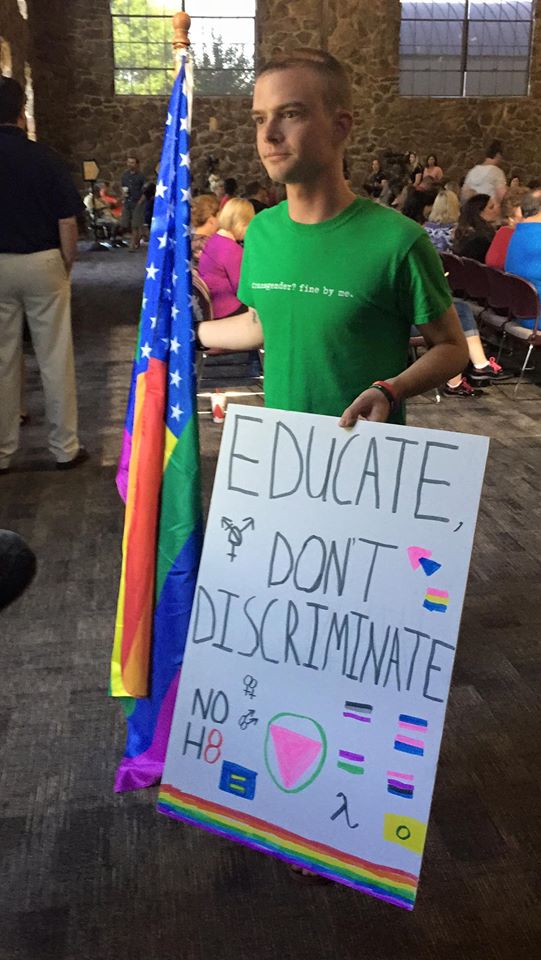 Same ole  song and chant of "Black Lives Matter" now is becoming "Gay Lives Matter" while the Christian community and those students who believe in the one true God, Jesus Christ are marginalized. I can assure you with the Supreme Court legalization of Same Sex marriage this will not be the last school district in Texas to undergo policy changes in relation to the chosen sinful lifestyle of HOMOSEXUALITY.

More on the story to come…………………..
KELLER ISD
Board of Trustees
Craig Allen  craig.allen@kellerisd.net  817-741-6086
Karina Davis  karina.davis@kellerisd.net  unpublished
Jo Lynn Haussmann  jolynn.haussmann@kellerisd.net  817-938-1900
Ruthie Keyes  ruthie.keyes@kellerisd.net  817-542-5628
Cindy Lotton  cindy.lotton@kellerisd.net  817-485-4177
Brad Schofield  bradas@sbcglobal.net  817-431-7090
Jim Stitt  jim.stitt@kellerisd.net  817-223-7209
Superintendent
Randy Reid  randy.reid@kellerisd.net  817-744-1011