If you think the Texas Home School Coalition is working to protect Texas Home School Freedom you could not be more wrong. They have aligned themselves with those that are pushing Common Core and a progressive education on Texas Children. I witnessed this first hand this legislative session when I discovered that they were taking special interest money from those pushing this progressive education agenda. To me this is serious and I consider it child abuse due to the psychological manipulation our children have to endure under this pedagogy.
In 2013 I blew the whistle on curriculum that was asking students to draw new Communist Flags, portraying the Boston Tea Party as a Terrorist Act. This program was called CSCOPE aka Common Core. After further research I and another mom, Colleen Vera discovered the corruption of a Texas Education Agency program called the Texas Virtual School Network. I recall calling the Texas Virtual School Network a few years back and asked them if they aligned with Common Core and was told YES.
The Texas Home School Coaltion has posted an article titled….
Public School at Home Options https://www.thsc.org/getting-started/public-school-at-home-options/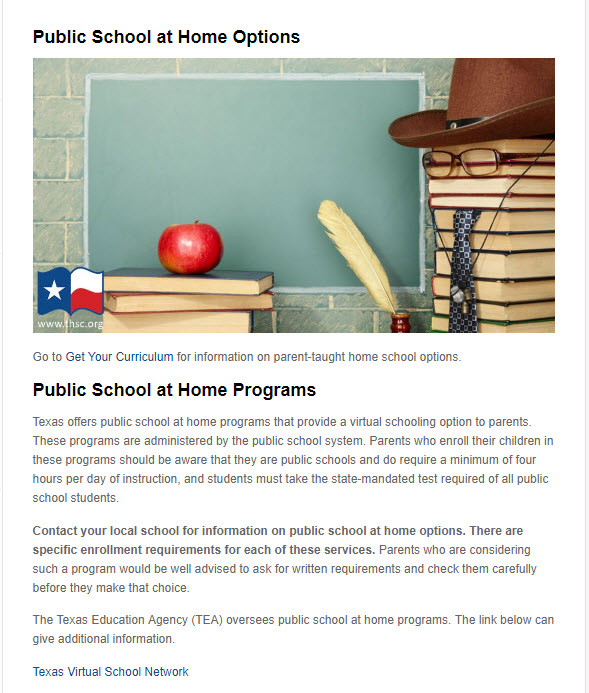 Why would THSC want to push public school at home?
Without reinventing the wheel. Please read below the articles and research done regarding the online program Texas Virtual School Network that was done myself and Colleen Vera with Texas Trash Talk. Please inform you friends and family the new direction that the Texas Home School Coalition is leaning. This agenda poses a huge danger to Texas Home School Freedom.
FYI.  Texas activist with Texans For Home School Freedom have worked tirelessly on behalf of Texas Home School Freedom. Please join their FACEBOOK group page.  Their website TEXANS FOR HOMESCHOOL FREEDOM.
Texas Virtual School Network Exposed…..
Texas Education Agency Implementing COMMON CORE
http://www.redhotconservative.com/texas-education-agency-implementing-common-core/
http://www.texastrashtalk.com/2014/10/texas-virtual-schoolanother-cscope.html