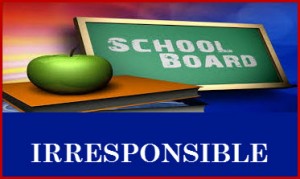 Sadly, the education system in Texas is no longer about educating  children. It is all political and the powers at be are working overtime establishing a progressive/centralized education system throughout the state. During the last legislative session a curriculum used in over 800+ school districts by the name of  CSCOPE/TEKS Resource System Curriculum was exposed, not only for its controversial lessons but concerns in regard to their financials. Senator Dan Patrick then requested a state audit and  Texas State Auditor John Keel released his report this month. The report was telling of how shaky our Texas Education Service Centers (ESC's) handle our tax money.
The Texas Education Service Centers (ESC's) that created CSCOPE which has renamed their product TEKS Resource System were found to be incompetent in handling millions of taxpayers dollars and lacked internal and external financial controls. The auditors were not a able to determine the actual revenue and expenditures of the taxpayer funded organization (ESC's).
CSCOPE has requested that teachers sign a non-disclosure statement stating they would not release the contents or say anything negative about it or face legal action. Seriously!
Despite the controversy and the state auditors report Texas School Boards continue to show irresponsibility in voting to continue leasing the CSCOPE product and funding the entity (ESC's) deemed incompetent in their accounting practices.
This past week Grand Prairie ISD's school board voted unanimously to throw more taxpayer funds at this faulty product and incompetent organization. Public input was given at the beginning of the meeting voicing concern in regards to the curriculum and the financials and those concerns were ignored once again.  School Board members no longer represent the people who have put them in office they are brain washed through the Texas Association of School Boards (TASB) that is funded with our tax dollars and they have become more of rubber-stampers of the superintendents agenda.
During the Grand Prairie ISD school board member Steve Pryor
  made final comments insinuating that the concerns surrounding CSCOPE are a myth. So let me get this right. The original CSCOPE lessons are removed, the name is changed to re-brand their image, the managing company disbands and regrouped with a new name, the state auditor releases a bad report in regard to the financials surrounding CSCOPE and Mr. Pryor calls it a myth? Seriously?
Mr. Pryor also made a comment that none of Grand Prairie teachers have used any of the controversial material that was in CSCOPE. 1) Mr. Pryor I am sure isn't in every classroom monitoring what is and isn't used 2)  In light of all the controversy Mr. Pryor deems it acceptable to throw money at it none the less.
Parents and taxpayers once again have got to take control of their local schools boards once again. The rubber stamping taken place is unacceptable and it will not change without the involvement of the grassroots.