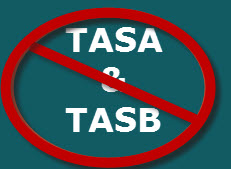 Texas progressive liberal superintendents are working over time to transform the Texas Education System They have been laying the foundation for this Education Transformation with a Marxist/Progressive teaching philosophy called Project Based Learning (PBL). Texas Association of School Administrators (TASA) & Texas Association of School Boards (TASB) which are funded with your TAX DOLLARS through membership fees and conferences, contribute to this transformation. Why are taxpayers having to pay membership fees and conference expenses to fund these progressive liberal organizations that are contributing to the demise of our children and country with a leftist progressive ideology that does not cherish America's Heritage and views Communism in a positive light? We have seen this with the CSCOPE lessons where they had Texas students drawing a new Communist flag.
The 2012 TASA/TASB Conference was held last Sept. I am not sure what the fee was for last years conference but if the cost is near what they are charging for the 2013 TASA/TASB conference this September taxpayers need to be speaking out.   This is the attendee list of those who attended the 2012 TASA/TASB conference. Check out the number of individuals that have attended from your school district. Why are taxpayers having to pay for their registration fees along with meals and hotel expenses? OUTRAGEOUS! There is nothing about this conference that is truly going to benefit students
The following is a snapshot of TASA/TASB 2013 Conference Fee schedule.