This week educators from across the state of Texas will be attending more progressive training in Gaylord, Texas at taxpayers expense. Not only will we be paying  conference fees but attendees hotel and meals as well. Learning Forward is one of many progressive educational promoting entities across the country with  groups represented in various states. Texas is home to one of the groups. Its board members are employees of various Texas ISD's. You can go to twitter and use #learnfwd13 and find all kind of info in relation to the progressive conference.
One of the most progressive educators across the Country is Humanist Linda Darling Hammond. Hammond has been behind the implementation of Common Core across the country and is associated with Terrorist Bill Ayers. Hammond has also signed the Humanist TEN COMMANDMENTS: GUIDING PRINCIPALS FOR TEACHING VALUES IN AMERICA'S PUBLIC SCHOOLS.  Hammond will speaking at this conference educating Texas administrators and teachers and some students.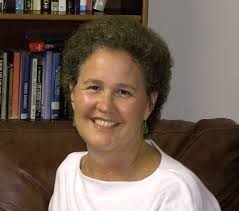 Linda Darling-Hammond
Common Core is illegal in Texas but it doesn't seem to stop Texas Educators from spending Taxpayers money on Common Core Training.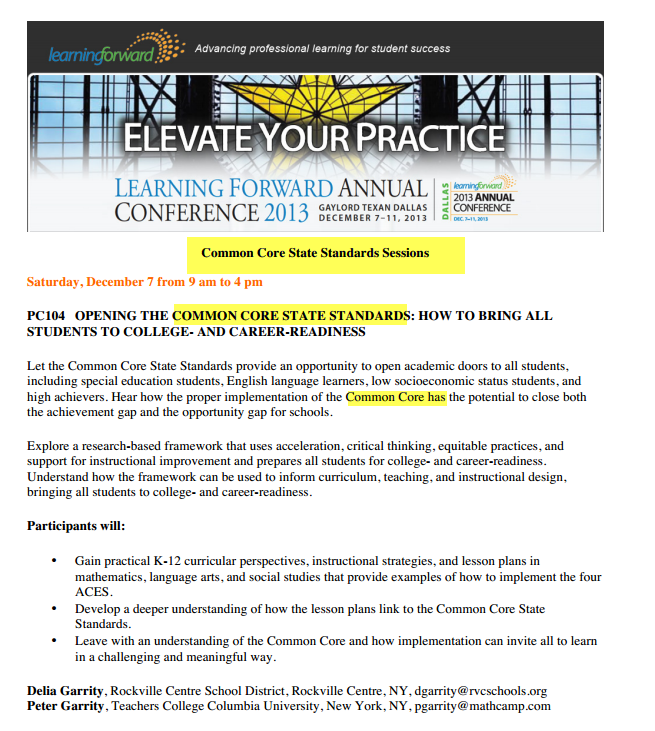 Stacy Kimbriel is employed by Plano ISD and is a principal at McCall Elementary. Obviously Plano taxpayers paid her way and today she was able to enjoy her morning of leisure.


Mr. Mark Prensky in Stacy's tweet below is a motivational speaker promoting the idea that educators have to jump on the "digital train" in order to be a successful educator today.
Prensky tweeted teaching students with tools of the past is punishment. Well as a home school mom of two college graduates my girls must of endured some real punishment but I have yet to see any signs of it as of today.



Michelle King is a director & board member of Learning Forward Texas. King is also employed by Coppell ISD. Coppell ISD's superintendent Jeff Turner a progressive who thinks the Mayor San Antonio is a Statesman!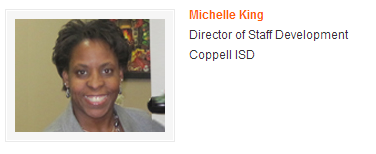 Seriously "Pursuing Excellence THROUGH Equity"? Sounds like Obamacare to me.
Jaime Donally is employed by Tyler ISD