Dr. Stan Hartzler is a veteran Math professor who quit teaching at Luling ISD due to being forced to teach the controversial Cscope curriculum. After quitting his position he ran for school board and won.  Hartzler felt like he was committing a crime using Cscope due to it failing to educate the students properly in mathematics.
Dr. Cathy Moak  employed at Texas Education Service VI wrote some of the math lessons within Cscope. Moak has shown her indignation to those of us that have exposed the substandard Cscope program.
Dr. Moak posted the following Facebook message accusing those that teach from the math curriculum Saxon do not understand the academics of mathematics are they are lazy.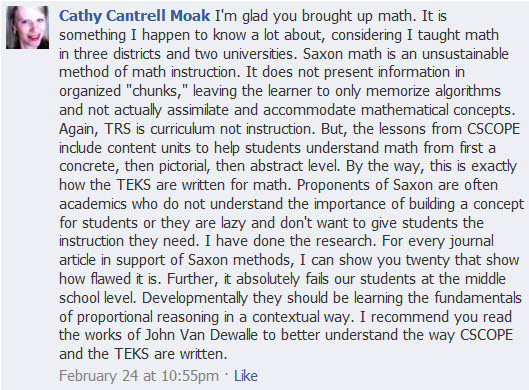 As a home school mother who taught Saxon math I would have to say it is one of the best programs out there. My oldest graduated from Texas A&M in accounting and my son-in-law also a home schooler educated with Saxon graduated #1 academically from the Engineering school at Texas A&M. Saxon is self explanatory and great for those parents whose expertise may not be math. You can find their books @ http://www.christianbook.com/saxon