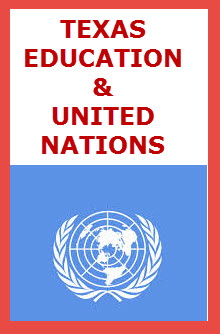 I once thought Texas School Superintendents worked for the district they were hired in. Not the case today. Texas Superintendents seem to be busy traveling across the country and the state working  to transform Texas Education unbeknownst to local parents and taxpayers.  School Board members elected by the voters no longer answer to their constituents and are beholden to the superintendent and his agenda. Sad for our children and our country your superintendent now is  working on implementing a Marxist teaching philosophy in every school district across the state of Texas. For years parents and taxpayers had been left in  the dark when it came to the controversial curriculum Cscope, used by their local school districts. Cscope, based on the same philosophy of the national curriculum Common Core  and Project Based Learning with the use of technology, assessments, etc .. was intentionally keep a secret by Texas Education Service Centers and Superintendents in their plan of transforming Texas education. Since the discovery of Cscope I have found that educators across the state are working with liberal organizations outside the state of Texas to further implement the transformation. Unfortunately the United Nations agenda has made it's way within our Texas Education Service Centers and school districts. Consortium for School Networking (COSN)  is a organization in Washington DC promoting technology and progressive education practices in school districts across Texas and the country. COSN works with the United Nations Educational, Scientific and Cultural Organization (UNESCO) to further implement their agenda. 
In 2012 COSN held a symposium with UNESCO in Washington DC.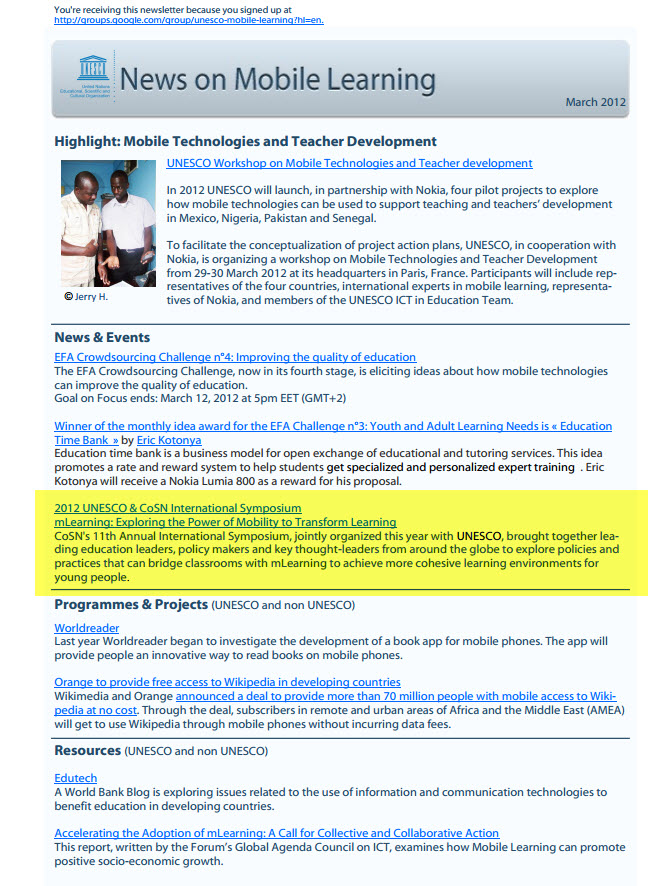 The Texas Chapter of Consortium of School Networking is called Texas K-12 CTO Council.  It states perfectly what their agenda is in the yellow highlighted part below.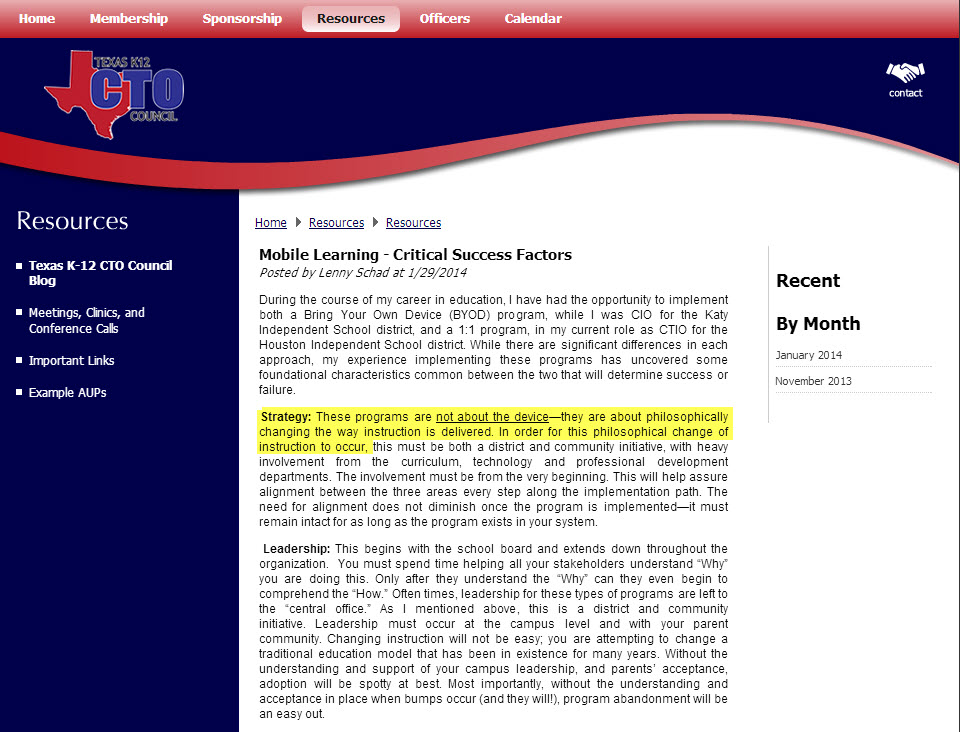 Link to Texas CTO Clinic Think Big
Texas Education Service Center 11 show their affiliation with different businesses and association, one being CoSN.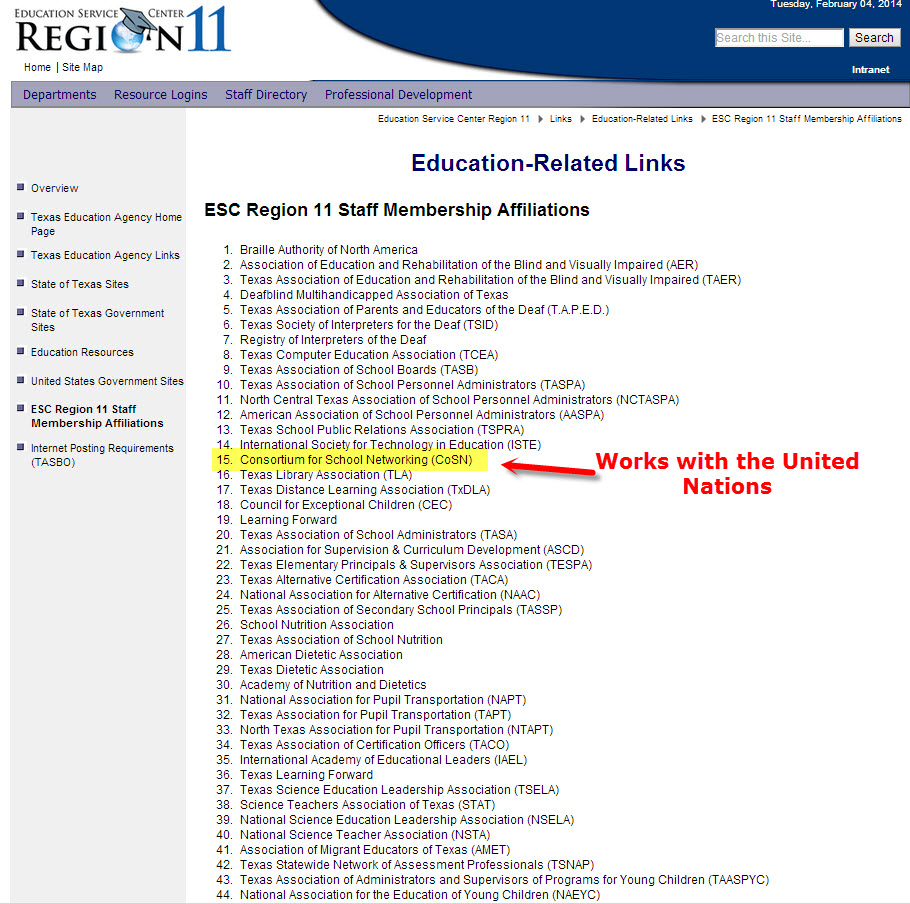 You will find different Texas School Districts that are institutional members of Consortium of School Networks.
Lewisville ISD partners with CoSN.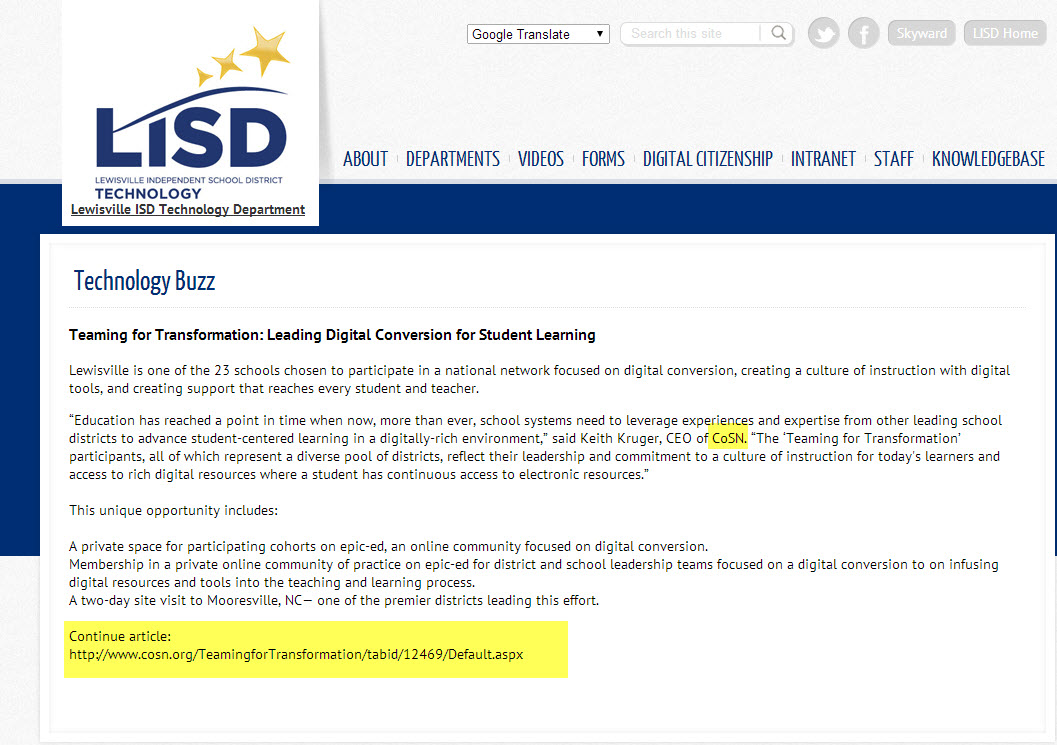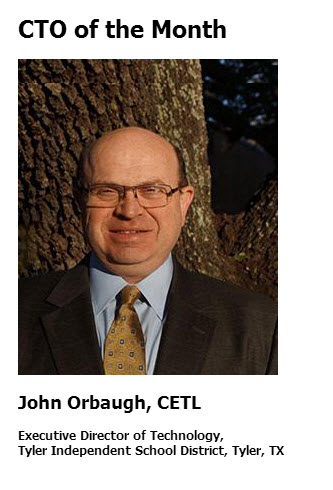 Who is protecting Texas Children from this? Gov. Perry has been AWOL.