Houston Mayor Annise Parker is an unrepentant lesbian.   She married her "significant other" Kathy Hubbard in Palm Springs California last January in Palm Springs, California. Parker is a bully and has subpoenaed 5 Houston Pastors for their sermons/speeches, text messages, any and all communication in relation to homosexuality or opposition to the mayors  "Bathroom Bill" aka Houston Equal Rights Ordinance (H.E.R.O.). The law which is not in effect would allow men to who may identify as a women use restrooms of their choice. The bill was met with opposition from voters who ran a petition drive to have the law put on the ballot.

Surprisingly the city threw out the petitions claiming there were not enough signatures; though there were 50K signatures taken and only 17K needed.  Opponents have now filed a lawsuit which led the mayor and City Attorney, David Feldman to proceed with their bullying tactics of infringing on 5 Houston Pastor's Constitutional 1st Amendment Right.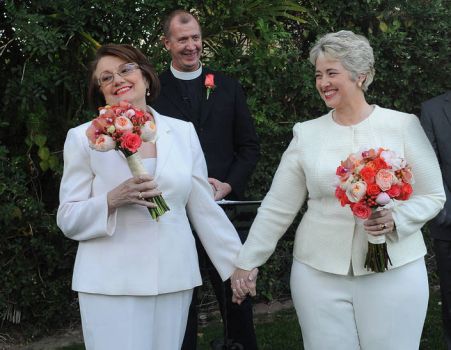 I know that many pastors have taken to the pulpit to denounce the Mayors actions. Pastor Gary Ladd of Grace Point Fellowship took to the pulpit explaining to his congregation the actions of the Black Robe Regiment, pastor who led their congregations into the battle for freedom during the Revolutionary War.
Historian David Barton explains the Black Robe Regiment on the below video.
ACTION PLAN.
Join Christians across America for I Stand Sunday on November 2, 2014. Hosted by Family Research Council and other partners, speakers from across the nation will gather at Grace Church in Houston, Texas to focus on the freedom to live out our faith free of government intrusion or monitoring. We will stand with pastors and churches in Houston, Texas who have been unduly intimidated by the city's Mayor in demanding they hand over private church communication.